Games and Events
Game schedules last modified: 04-21-18
&nbsp
&nbsp

Sun
4/8
Mon
4/9
Tue
4/10
Wed
4/11
Thur
4/12
Fri
4/13
Sat
4/14

—

Booster Club Meeting
AVHS Room 161 (near the entrance door #4)

—

—

—

—

—

Varsity

—


vs
at

—


vs
at

vs
at

—

—

Sophomore

—


vs
at

—


vs
at

—

—

—
The game schedule is from the South Suburban Conference website - please verify dates and times with your coach.
Announcements
SCHEDULE/GAME DETAILS Starting APRIL 23rd
Monday - Thursday Double headers

Varsity - Two 7 inning games
3pm start if you host with no lights
4pm start if you host with lights

9/ 10 /JV - Will attempt two 7 inning games with an 1:45 time limit
Start time: as close to 4pm as possible

NO SCHEDULE AS FAR AS WHO WE PLAY HAS BEEN MADE YET
Congratulations to these AVHS Baseball players on their commitments to play baseball next year!
Trey Kocher - Bethel
Dylan Balfour - Crown College
Carter Johnson - Hamline
Ryan Gale - Edgewood College
Josh LaFave - Edgewood College
Justin Firpo – Winona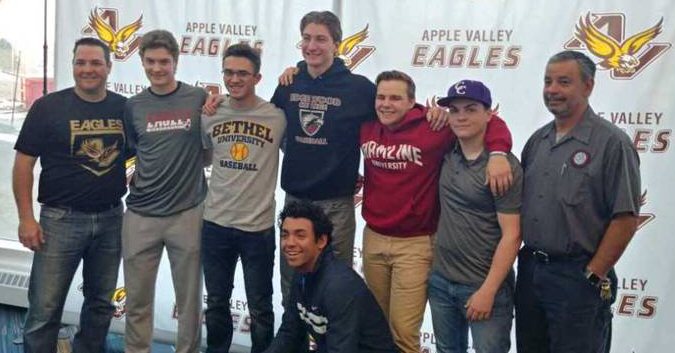 Legion Baseball Info
See below for more information on Legion baseball. Tryouts are Sunday, May 6th. Follow them on Twitter @avjrleg.
Information from 1/29 Parent Meeting
Please see the following documents that were presented at the 29 Jan parent meeting:
Booster club:


Coaches:

Legion Baseball
Summer Baseball
Legion (top team, ages 16-19)-Coach Riley Peterson
Jr. Legion (ages 16 and under)-Coach Trevor Hemphill

Tryouts: Sunday, May 6th @ Legion Field @ 11-3 (Rain date: May 13th)

Signup at: signupgenius.com

Seasons start soon after the high school season ends. Jr. Legion typically starts the week after Memorial Day. Legion sometimes starts before the end of the high school season, depending on playoffs.

To see schedules from last summer, check out the GameChanger site, search Apple Valley Jr. 76ers 17U or Apple Valley Post 1776 76ers 18U.

Questions? Contacts are below:
Brady Sweitzer (Jr. Legion and Legion Coordinator): sweitz24@frontiernet.net
Riley Peterson (Legion Head Coach): petersri5@hotmail.com
Trevor Hemphill (Jr. Legion Head Coach): trevor.hemphill@district196.org

District Fee
The district fee pay is open for baseball registration. Please register at your convenience. All players must be registered on fee pay before they are allowed to try out in March. Register for the 2018 AV Baseball Season
Volunteer Opportunities
Below is the link to our volunteer site. Each family will be required to volunteer throughout the season: Volunteer

If you had previously signed up, please sign up again as the sign up has changed and those names were unfortunately deleted from the sign up.

More events will be added to the sign up as the season goes, so please check back often!
Locker Room Improvements
As I'm sure you all know, there are many expenses associated with running a sports team. AVHS baseball is no exception. Money raised by the booster club covers many things including field maintenance, equipment, coaching, lessons etc., and all money the Booster Club receives goes directly to supporting the program.

What you may not know, is that the baseball high school players do not even have a locker room at the school! They don't have a place to store their gear or change after school!

Last year the booster club started a project to rectify that by building a locker room connected to the back side of the home dugout on varsity field. The booster club hired a contractor to complete the project, which included a remodel of the dugout and the addition of a locker room for the boys. Unfortunately, the contractor that was hired failed to complete their end of the contract. Not only was the booster club out the money we paid him, we also had to pay another contractor to fix the mess the original contractor left us with. Our new contractor was able to get the dugout and announcer booth back to the original condition without the much needed locker room.

We took the original contractor to small claims court winning a judgement against them, as many of you know collecting is another issue.

All of this has unfortunately left the booster club in need of financial assistance, this issue consumed most of our cash reserve. Families and Friends, we ask you to please consider us in your year-end giving. We are a certified nonprofit with 501(C3) status, making all of your donations tax deductible. There is a link below that you can use to help our program and our outstanding young players. Your generosity is greatly appreciated.

Please consider sharing this letter with family and friends. We thank you for your generosity!

DONATE
Team Meals
Thanks to all our sponsors for the team meals last season:
Buffalo Wild Wings
Chick Fil-A
Dairy Queen
Dominos
Old Chicago
Rack Shack BBQ
Rascals

GameChanger
Follow the Eagles on GameChanger. The mobile app and website provide scorekeeping, stats, live GameStreams and recap stories. http://gc.io/team-515d1ad2a5e7038803000001
Email Distribution List
If you would like us to add your email to our distribution list please contact Krys at avbaseballmn@gmail.com
Booster Club Meetings
The booster club meetings will be held in room 161 (near the entrance door #4) at AV High School on the 2nd Monday of each month at 7 to 8 pm starting in November and running through June. For the 2018 season the Booster Club Meeting will be held on: Nov 13th, Dec 11th, Jan 8th, Feb 12th, Mar 12th, Apr 9th, May 14th, and June 11th.
2018 Season Pictures
Pictures from previous seasons can be found using links on the left side navigation.

Coming Soon!